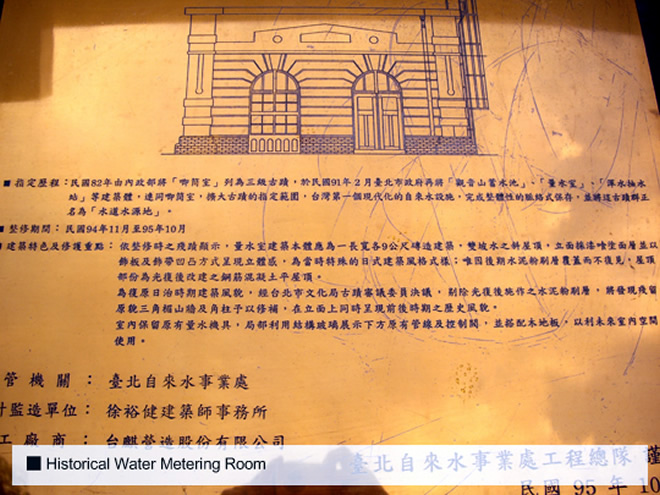 History:
Because loss and missing of files, there is no exact record indicating the initial building year of Metering Room, however, according to our investigation, it was completed in March, 1909, which was used to meter the water output of Guangyinshan Distribution Pond. It remained in service as late as 1977, after the completion of Gongguan Purification plant.   
Process of designated historical site:
In 1993, Ministry of Interior listed Pumping Room as Class-3 Historical Relics. In February, 2002, Taipei City Government further included buildings of "Guangyinshan Reservoir", "Metering Room" and "Raw Water Pumping Station" into the designated scope of historical site, to maintain the first modern tap-water facilities in it completeness, and named it as "Tap-Water Source Land"
Refurbishing period:
Nov. 2005 till Oct. 2006
Characteristics of Buildings and Main Repairing Portions:
According to the remains at the time of refurbish, Metering Room building should be a brick-building of 9 m x 9 m, twin-slop inclined roof. The facade is painted wall and decorated with patterns and strips to give it a sense of modeling. It is a special Japanese building style during the Japanese Ruling era. Later, the decoration was covered with mortar coating. The roof portion was rebuilt concrete flat roof after World War II.
In order to restore the original building features in Japanese Ruling era, it was resolved by the Historical Site Review Board of Bureau of Cultural Affair, Taipei City government that the mortar coating should be removed and the triangle lintel wall and angle column should be repaired, so to resume the historical appearance of the facade both earlier and later times.
In order to revive historical site, also for re-utilization, as well as promote the development in Gongguan Area , Taipei Water Department have repaired Raw Water Pumping Station, beautified Light Sculpture Water Pipe Bridge, and establish Viewing Platform and Activity Plaza to build a beautiful Gongguan Water-Front. They are designed and made to connect the Water Park and River Bank facilities to provide a recreation and education site for citizens. It is a cultural, diversified and quality leisure ground for people to make friend with water and understand water both in use and in conservation.